The future has arrived.
Accept all types of payment types – Magnetic Strip, Chip Cards and Apple Pay.
The Poynt Smart Terminal is an all-in-one smart device you'll actually want to have on your counter. Accepts all of today's and tomorrow's payment types – Magnetic Swipe, Chip Cards (EMV), NFC – Apple Pay and more. And with the Poynt HQ smartphone app, you can manage your terminal and business from anywhere.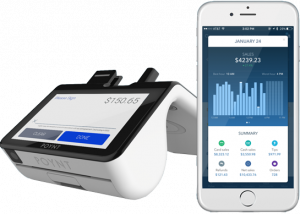 Secure, All-in-One and Beautiful.
Poynt Smart Terminal is beautiful and feature packed device ready for the future.
Poynt HQ app for your business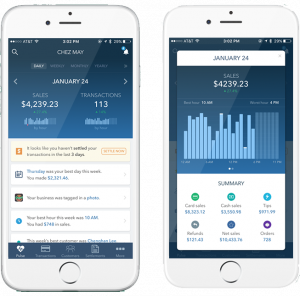 Poynt HQ is a command center for your business where you can monitor your sales, refund transactions, get business insights and alerts, see your best customers, settle with one click — plus a ton more..
4.3 inch Customer Screen

There's a big beautiful touch screen for you — plus a dedicated screen for your customers. Customers can select their receipt preferences (print, email, none), choose a tip (without all the awkwardness), and digitally sign or enter pin for their transaction (if applicable).
Poynt Store – The Apps You Need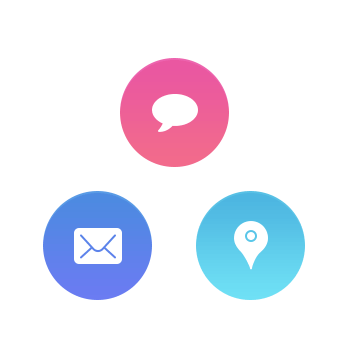 Poynt Store provides access to Apps you need for your business. An open Android based SDK allows Android developers to create apps creating rich app store.
Simple Interaction Experience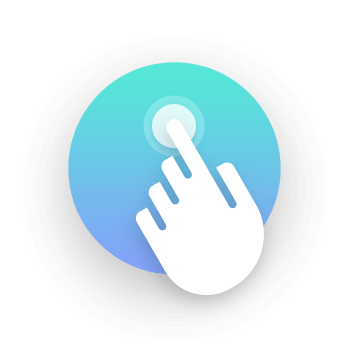 A modern user interface based on Android platform ensures you have a consistent experience. This makes the Poynt Smart Terminal easy to use and train. It also features an in-built help system to get you the help instantaneously

Poynt OS.
Power Packed.
Poynt OS is an Android based operating system. It provides a strong platform for development of payment and business related apps with a Poynt SDK. This is a platform for developer's joy. If you know how to program in Android, you'll feel right at home. Start writing apps today!
Available, get it now online!
Processor
4 core 1.8 Ghz Cortex A15 application processor 108 Mhz Cortex M3 security processor
Memory
1GB DDR
Storage
16GB Flash
Display
7'' touchscreen 800 (w) x 1280 (h) pixels
4.3" Secure touchscreen display 800 (w) x 480 (h) pixels
Simultaneous 10 finger capacitive multitouch
Operating System
Poynt OS
Connectivity
802.11 b/g/n WiFi, 3G capable, 0/100 Ethernet (dock)
2x USB 2.0 ports (dock)
WiFi: 802.11 a/b/g/n I dual channel 2.4, 5 GHz operation
Ethernet: 10/100 BaseT RJ45 port
USB 2.0
Camera
Front and back camera
Front Camera: 5MP I autofocus (7cm to infinity)
Back camera: VGA
Audio / Microphone
Built in speaker and microphone
Card Readers
Hybrid MSR/ Chip Reader
Magnetic stripe reader: Triple track (tracks 1, 2, 3),
high coercivity, bi-directional
Chip reader: ISO 7816, 1.8V, 3V, 5V; synchronous and asynchronous cards; EMV Level 1 and 2 Type approved Protocols
Supports major NFC/contactless schemes, ISO14443 A&B, MiFare capable, ISO 18092 capable Printers
Applications
Poynt Terminal, Poynt Register, Settlement, Help
Built in 2" thermal printer
Integrated thermal printer with graphics capabilities
≥ 80mm/s / 18+ lines per second
Accommodates standard roll paper of 58mm (2.25 in.) width x 25mm (1.0 in) diameter, single ply – 3 rolls included in box
(6M / 20ft. each)
Other Features
Accelerometer, Gyroscope, Compass
3-axis accelerometer
3-axis gyroscope
Switchable full-scale ranges (≥ 5 ranges)
Security
PCI PTS PED and SRED 4.0, End to end encryption Supports TLS 1.2
Power
40 W, 12 V, 3.33A (100-240V) I battery: 4Ah, 4.2 V, 800 cycles
Power Adaptor: input 100 – 240 VAC, 50/60 Hz, 1.5A
Voltage
AC input 100 – 240 VAC, 50/60 Hz; DC output 12V 3.33A
Environmental
Operation 0° to 50°C, 90% Maximum non-condensing up to 45°C
Storage: -20°C to 75°C, 90% Maximum non-condensing up to 60°C
Physical
117 mm x 245 mm x 90 mm  and 0.7 kg
Certification
EMVCo L1 and L2 certification, PTCRB NFCC
EMV ready
Device is EMV ready for standard PCI PTS 4.0
Life
Smart Card Reader Life
Smart Card: 500,000 reads. MSR: 300,000 swipes.